Training
Give yourself permission to a strong and healthy body
---
Are you frustrated and discouraged by your mental and physical condition?
Anna Anka Wellness is here to help you improve and maintain a healthy mind and body.
Anna Anka Wellness is designed to slow down your biological age process. It will deliver a safe, supervised, personalized program just for you!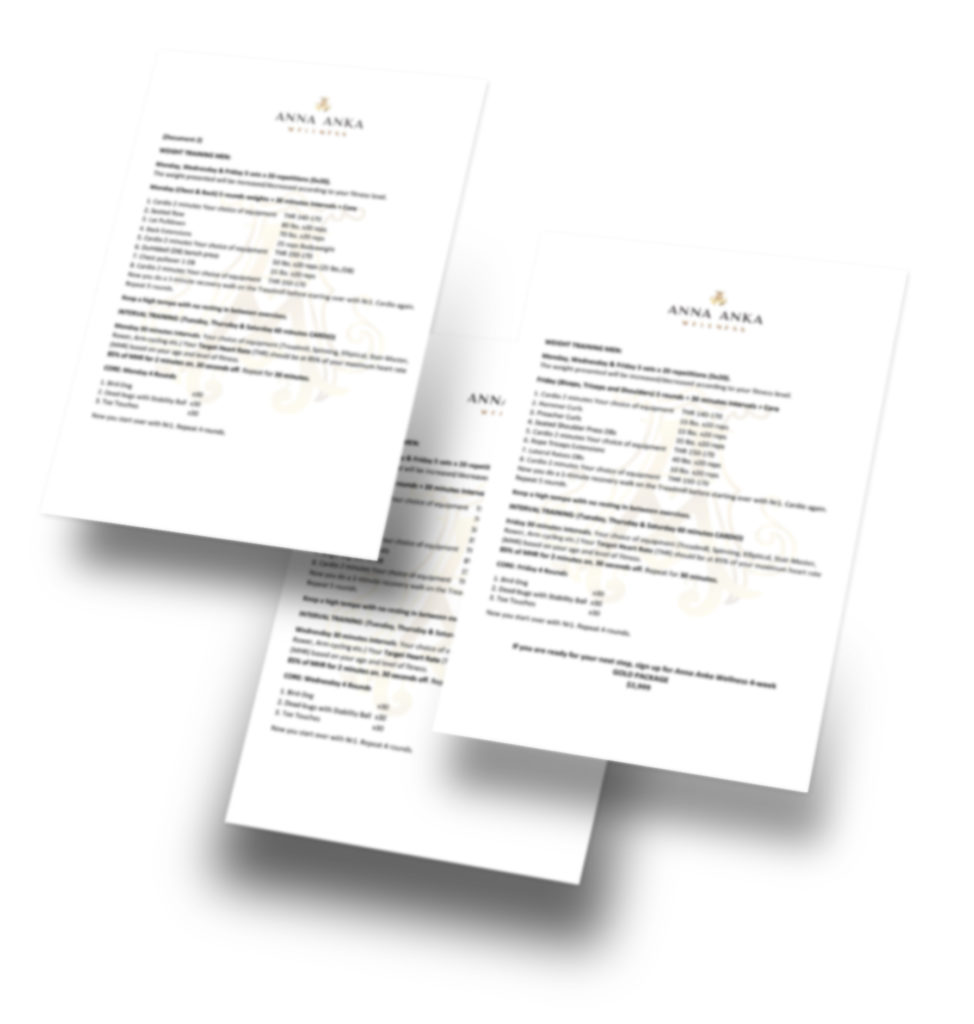 My purpose is to guide you and teach you how to achieve your goals.
My program is ideal for those who have daily excuses, like busy schedules, family, and work obligations.
It all comes down to your priorities and what is your highest value in life.
Anna Anka Wellness should not be compared to the thousands of other workout programs already available for free on the internet.
Anna Anka Wellness is an integrated mind & body formula for you to achieve guaranteed results.
It is designed for any type of lifestyle and overall health. Only YOU are the limitation to your future health, based on your daily choices.
Your success is dependent on you!
Let me remind you, you are not alone in this process. I will provide you with support and accountability throughout your progress.
Anna Anka Wellness Includes:
Health history
Mentally and physically

Personalized evaluation and supervised weight exercises
The exercises will help you improve your overall health and vitality. You will see substantial positive changes both mentally and physically by the end of each 4-week

Live-stream workouts once a week.

Personalized nutrition with meal plans (your meal plan will be established to help you maximize your energy utilization) Your body will be retrained so that your meals will be used for nutrition, rather than emotional desire and satisfaction.

Cardio Plan
(Includes 3-5 days per week on your own schedule and can be done anywhere)
The cardio plan will stabilize and benefit your system to aid in preventing fatigue and exercise discomfort.
Interval Training
Core Training
Take charge of your health and responsibility for YOUR one amazing life!
Do not let your fears, limitations and one-sided thinking kill YOUR dreams, hopes and desires, that eventually will put you in the hospital. Do not let YOUR fear hold you back from bringing the best out of you. Fear is self-imposed by your thoughts and does not exist.
Only YOU have the power to change your life. Are you ready? What is it worth to you?